We deliver the finest quality butter and margarine products… From
retail and portion sizes to foodservice solids, tubs, bulk industrial, pastry, & manufacturing formats
– We offer products for all applications.
Our fresh churned butters are made with high quality ingredients to ensure you get a consistent smooth texture and rich flavor that will elevate your recipes. We have a wide selection of butter including: 25 kg Butter Cubes, Clarified Butter, 1 LB Solids, & Retail Quarters. Looking for something special? We have 83% Butterfat Butter, Pastry Butter Sheets, and Hand-Rolled Amish Butter.
A selection of our butter products:
Salted & Unsalted Butter Solids – 36/1 lb
Salted & Unsalted Butter Cube – 25 kg
83% European Style Butter – 36/1 lb, 25 kg
Lightly Salted Butter Quarters – 18/1 lb
Amish Hand Rolled Butter – 24/1 lb
Whipped Butter Tubs – 4/5 lb
Pastry Butter Sheets – 5/4.4 lb
Clarified Butter Tubs – 4/5 lb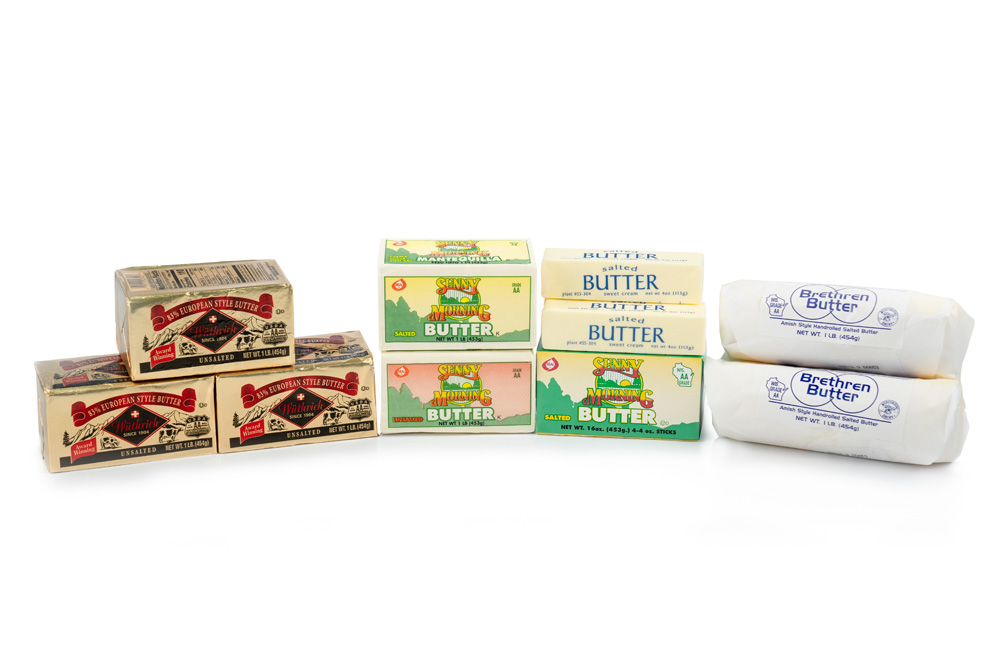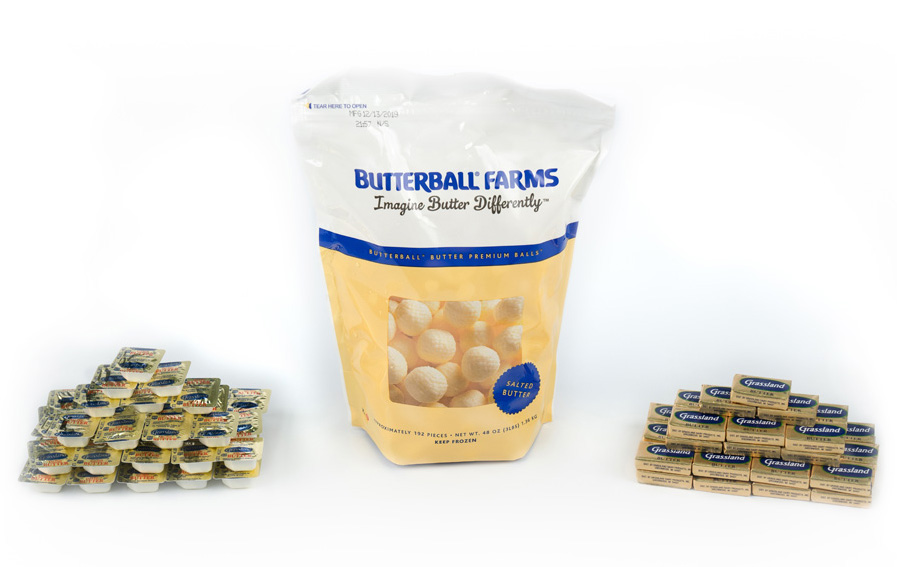 Butter Portions are an excellent option for foodservice establishments and prepared meal manufacturers. Butter Cups and Continental Chips are the most popular option, are available in various portion sizes, and offer a convenient and sanitary tabletop solution while Premium Butterballs offer a touch of sophistication.
A selection of our portion butter products:
Butter Continental Chips – 47 ct
Butter Continental Chips – 59 ct
Butter Cups – 90 ct
Butter Cups Whipped – 90 ct
Butter Balls – 3/3 lb
Butter Roses & Custom Shapes
Margarine is often used as a functional and economic butter replacement that provides richness and stability to finished baked goods. Our broad selection of all-vegetable margarine includes Soft Spreadable Margarine Tubs, Retail Margarine Quarters, European Butter Blends, Margarine Solids, and Bulk Margarine 50 LB Cube. Looking for a specialized blend for your new menu item? Our team is here to help.
A selection of our margarine products:
Margarine Solids – 30/1 lb
Unsalted Margarine Solids – 30/1 lb
Margarine Cube – 50 lb
Liquid Margarine – 2/17.5 lb
Margarine Spread Tubs – 18/15 oz
Margarine Spread Tubs – 12/45 oz
Whipped Margarine – 20 lb
Margarine Quarters – 30/1 lb
Margarine Portion Cups – 900 ct
European Butter Blend – 30/1 lb
Sunrise Butter Blend – 30/1 lb